Last week, India's namkeen industry held a convention commemorating annual sales of INR 1 lakh Cr ($14Bn), led by snacks giant Haldiram's.
Capture Consumer Imagination
In 2019, during a shelved stake sale to Kellogg, two of Haldiram's branches, Delhi's Haldiram Ethnic Foods, and Nagpur's Haldiram's Food International, were valued at $3Bn.
These two divisions together, are expected to end FY20 with sales of INR 4,500-5,000 crore (~$800MM) and a staggering profit of INR 450-550 crore (~$60MM). For a company that started out 8 decades ago as a tiny one-man operation, it has been an incredible journey.
How on earth did a sweets shop from Bikaner grow to command a valuation of INR 20,000 Cr?
In the 1930s, during India's independence struggle, Shri Ganga Bhishan Agarwal was a young teen with a family to support. Fondly known as Haldiram by his mother, he joined his family snack stall at Bhujia Bazar in Bikaner.
Armed with a recipe from his aunt who used to make a thick, soft version of the snack currently known as Bikaneri Bhujia, Mr. Ganga Bhishen created the famous Haldiram's bhujia.
He reinvented it by adding a particular type of lentil called 'matki'. He also made the bhujia thinner by using a finer mesh. Not only did he innovate on the product, but he also knew how to market it smartly.
He dubbed his bhujia as 'Dungar Sev' after the popular Maharaja of Bikaner, Dungar Singh. Riding on an influencer of his times, Mr. Ganga Bhishen began to sell.
In a move that was breaking from tradition, Mr. Bishen's wife desired to move out of the joint family, resulting in him parting ways with his grandfather's business.
He set up the first shop as a retail sweets and namkeen shop in Bikaner, Rajasthan in 1937. The product struck a chord with the buyers and he was soon selling as much as 200 kilograms of bhujia every week, pushing the price from 2 paise to 25 paise per kilogram.
On a personal visit, Ganga Bhishen went to Kolkata to attend a wedding. Seeing the demand in the grand old metro, a shop was set up in the Burrabazar area in 1958 by his son Rameshwarlal Agarwal.
Haldiram's Direct to Consumer startup was born.
Never Settle
The first two generations of Haldiram's were content with running small operations, but two grandsons from the third generation, wouldn't settle.
Manoharlal and Shiv Kishan expanded the business to Nagpur in 1970. This was the first branching out of the Bikaner bhujia business. Calcutta, the city of the first shop, also became the location for their first manufacturing plant.
Haldirams was taken to Delhi by the two grandsons. The Delhi shop, located in Chandni Chowk proved to be a huge hit with the masses. In a shock to the family, the shop was burnt down during the riots of 1984, with the two grandsons vowing to rebuild it brick-by-brick.
Over the next two decades, Haldiram's went through the growing pains of any young company, resulting in divisions in the company.

Haldiram's split into three branches, Delhi, Nagpur and Kolkata. The three became separate entities, with operations are carried out independent of each other. The only thing common would be the Haldiram brand name, though each company maintained different logo styles.
But this split was not without its pain.
Breakups and disputes marred the growth of business empire as Ganga Bhisan's descendants have fought over territorial and trademark rights, a typical challenge for heritage family-run businesses. A hotly contested dispute over the brand ownership and trademark started in the 90s and continues till date.
The estranged Kolkata faction, which operates primarily in West Bengal, has dragged the other two sides to court for this.
The dispute over the ownership of the brand is primarily between the sons of Moolchand and Rameshwarlal and concerns the alleged dissolution of a partnership between Gangabhisan, Moolchand, Shiv Kishan and Rameshwarlal, which had registered the trademark in 1972.
While the factions continued to fight, the Haldiram's brand kept growing.
Haldiram's set up manufacturing plants in Delhi, Nagpur, Gurgaon, Rudrapur and Noida. The businesses kept expanding in their respective regions.
Despite the family issues, Haldiram's was ready to serve.
Think Global
In the early 2000s, Haldiram's diversified from namkeen snacks.
It began including sweets such as canned rasgullas and soan papdi, pani puri and now desi wraps. This would be a precursor to Haldiram's 400+ product range that includes traditional namkeens, western snacks, Indian sweets, cookies, sherbets, papads and pickles.
In 2003, the company started the process of developing convenience foods that could be marketed to consumers.
These products in the ready-to-eat format included paneer, pulao, dal and vegetables. Expanding into this market, they began competing with well-established incumbents such as MTR, Tasty Bites & ITC.
But Haldiram's wasn't satisfied with newer products, it wanted to go global.
While all three units had their territories ear-marked in India, they established a huge presence in international markets such as US, Canada, UK, UAE, Sri Lanka and Thailand.
A process-driven approach along with a keen eye on markets with significant Indian diaspora helped in their expansion. All products would be manufactured in-house for maintaining quality and have excellent packaging and distribution.
Its product basket has also expanded beyond sweets and snacks for global markets. These would include cookies, biscuits, fruit juice concentrates, frozen Indian food which all have a growing demand in the international markets.
Packaging has been used as a moat to extend the shelf life of the products from a week to around six months. This has been coupled with quirky campaigns such as 'six months on the shelf and six seconds in your mouth'.
Leveraging its distribution advantage and extensive network play it has obtained considerable shelf space in supermarkets such as Tesco, Carrefour, Somerfield.
It has also set up a factory in London which was reportedly the biggest challenge faced by Manohar and Madhusudhan Agarwal last year in their quest to serve the demand for Indian sweets in Europe.
The success of the model will determine their setting up of manufacturing plants in other demand centers globally. Credibility of a relatively unknown brand in newer markets has been established with its compliance with international norms (HACCP) for quality and safety.
It has however not been completely controversy-free.
In Feb 2015, few of their snacks were debarred in the US citing pesticide adulteration but were eventually given a clean chit.
Haldirams global ambitions would catapult it into the big leagues.
The Sky's the Limit
2016 would be a seminal year for the Haldiram's group.
When Haldiram's revenues crossed INR 4,000 crore in FY16, it had become twice the size of both Hindustan Unilever's packaged food division and Nestle's Maggi. It had grown larger than the India turnover of the two American fast food rivals Domino's and McDonald's combined.
Beating well-entrenched multi-nationals at their own game is not an easy feat.
In fighting with the deep pocketed multi-nationals, Haldiram's stuck to it distinctly Indian roots and established a brand-customer relationship based on the promise of providing indian taste anytime.
Packaging is also an important aspect of Haldiram's product promotion. Since namkeens are impulse purchase items, attractive packaging in different colors influences purchases.
Combined with its deeply Indian roots, it also utilized technology to win.
Haldiram's uses the latest technology, like food items packed in nitrogen-filled pouches, to increase the shelf life of its products. While the normal shelf life of a similar product is under a week, the shelf life Haldiram's product is about six months.
In 2016-17, while the overall market grew 17% in the year, Haldiram's pace was faster at nearly 30%, in contrast with 10-12% during 2012-16. It also added more than INR 1,000 Cr of incremental sales.
In 2017, Haldiram's was crowned as the country's largest snack company, surpassing all other domestic and international competitors such as PepsiCo, Balaji, Pratap Snacks. Haldiram's posted sales of INR 4,224 Cr in the year.
Branded namkeen varieties such as dal, chivra, bhujia and nuts have increased their contribution within the overall snacks market worth INR 27,500 crore in 2019, up from overall size of INR 21,600 Crore in 2016.
The three brands combined sold savoury snacks worth $1 billion in calendar 2018, cornering over a quarter of India's overall packaged snacks market and more than half the desi namkeen segment.
Haldiram, Bikaji and Bikanervala had an incredible combined sales of Rs 7,042 crore in the year.
The increase in sales was due to the increasing consumer preference for packaged namkeen over western snacks such as potato chips. These trends were caught by the company, which now had the right combination of family business ethos and professionally run execution.
By running the family business professionally, they managed to make all products inhouse, within quality and cost control.
The professionalization of the firm did not result in losing the simplicity that kept the company ticking for so many decades.
Keep it Simple
Haldiram's philosophy towards their product remains simple.
Haldiram's makes excellent quality products with high quality raw materials, and lets the products speak for themselves. With a rare utilization of quirky TV commercials, Haldiram's almost entirely relies on good customer feedback.
Haldiram's offers its products at competitive prices in order to penetrate the huge unorganized market of namkeens and sweets. Its pricing strategy has taken into consideration the price-conscious nature of consumers in India.
In a time where growth is fueled by discounts and cashbacks, Haldiram's has continued to grow without these while continuing to be profitable.
Their products are available in 5 different packs/sizes with prices varying according to their weights. Haldiram's launched namkeens in small packets of 30 grams, priced as low as Rs. 5 to cater to segments with lower disposable income.
The company revises the prices of its products upwards only when there is a steep increase in the cost of the raw material or if additional taxes are imposed, otherwise the costs are absorbed by the company.
Haldiram's with its myriad sub-brands caters to the average (middle-class) Indian as their primary target customer group. This customer group possesses sophisticated tastes along with price sensitivity.
Their revenue comes largely from packaged products — which include namkeens, sweets, and ready-to-eat snacks. Namkeens contribute almost 60% of the total revenue for the brand, but Haldirams also has ancillary businesses such as restaurants.
While the company continued to grow, it didn't lose sight of doing business profitably.
Watch Your Economics
Haldiram's model is similar to any ready-to-eat consumer brand, but highly optimized for scale.
The company prices its products sustainably, ranging anywhere between 5 INR to 200 INR. By owning manufacturing facilities, the group has brought down the cost of goods sold, which we estimate to be 45% of revenue like other FMCG brands.
Customer acquisition is done through a vast network of 1MM+ retail stores, which is where most of the margin is shared. Haldiram's has taken an India first, India specific strategy to achieve deep penetration.
By using a Carrying and Forward agent network, it distribute its products with the widest possible reach. The Delhi unit of Haldiram's has 25 C&F agents and 700 distributors in India, while the Nagpur unit has 25 C&F agents and 375 distributors.
These C&F agents receive a commission of around 5% while distributors earn margins ranging from 8% to 10%. At a retail outlet level, margins vary according to the weight of packs sold. Retailers earn margins anywhere between 14-30%, with the higher-margin for smaller weight products.
With 35% going through for customer acquisition and distribution, Haldiram's maintains scalable direct to consumer margin structures. D2C companies generally spend 35% on fulfilment and customer acquisition, which Haldiram's mirrors largely offline.
Assuming a 10-12% of revenue spent on salaries and other expenses, it leaves ~8-10% as net profit margin. With the company at a revenue of ~$1Bn, it would be generating $80-$100MM of net profit.
A profitable billion $ company, with rapid growth, in a high potential market, would indeed interest massive global FMCG players.
Build a Brand
The success of the very desi brand resulted in the second-largest snack food company in the world wanting a bite.
In 2019, Kellogg's was reportedly keen to buy a stake in Haldiram and valued it at $3Bn. Ultimately the deal did not go through due to issues such as brand ownership, as three factions of the extended family operate Haldiram, and size of the stake to be sold.
This is not new for the group, though as previous conversations, with Pepsi and few marquee PE players have met the same fate due to similar issues
The family issues, reluctance to cede majority control and harmonizing the mixed interests of the three groups might mean that a stake sale or financing from a PE player might be tough. An IPO looks to be the only viable route for the company to raise financing in future
It will also have to keep a keen eye out for inorganic acquisitions/ alliances which help strengthen or expand its product portfolio.
The recent partnership with French bakery café Brioche Doree suggests that Haldiram is not shy of experimenting and take bold moves to attract the young and new millennial class and keep them tied to the brand as strong as their parents were.
For the first time, the bakeries will serve only vegetarian food to the Indian market.
Invariably the startup ecosystem has attracted Haldirams and it wants to take a piece of the food brands sprouting up in India. It recently partnered with an incubator to better understand the startup ecosystem and incubate 10-15 startups in consumer segment space. This is expected to be a win-win for both since the incubator's focus to push startup culture in tier 2,3 cities in India gels well with the brand loyalty of Halidrams in these regions.
It was also reportedly in talks to invest in Frozen Bottle, a QSR chain that sells milkshakes and desserts depicting a keen risk-taking appetite to venture into newer product categories.
It has also started appointing industry professionals and their integration into a family business culture will be the key to scaling up well.
Succession planning will also be a key focus area, although that might be trickier considering the territorial division among the three families and the earlier court battles which happened when one tried to enter another's territory.
As Haldiram's has built a category leading and creating brand, what can this story teach India's budding direct to consumer brands?
Lessons for India's Consumer Brand Startups
As you would have noticed by now, each phase of Haldiram is a lesson for Indian direct to consumer startups.
We had highlighted direct to consumer as a trend to watch in 2020, and online first D2C brands can watch and learn.
Capturing consumer imagination is critical for consumer startups. When customers feel a magical experience on consuming your product, it will begin to sell itself.
To do this, one must never settle.
The way you sow the early seeds of the business define much of the principles through which the business is built. Not only must you settle with lower than the best quality, but also the breadth of your offering.
Every consumer brand will need to think global to grow. Human consumption has surprising similarities across geographies, and if your ambitions are big, the sky's the limit.
Always remember that human beings like to keep things simple, especially if they have to be consumed. By keeping them easy to consume, describe and share, you only make it easier for your product to be adopted.
Don't lose sight of your economics, though.
A lot of startups get carried away chasing growth. In the consumer market, unit economic profitability is necessary, and possible. If you don't find the right delivery model
Which brings us to the final lesson, be incredibly brand focused.
Your company will live and die by its brand, and you will have to work patiently to build your brand. It could take years, sometimes decades to become a brand.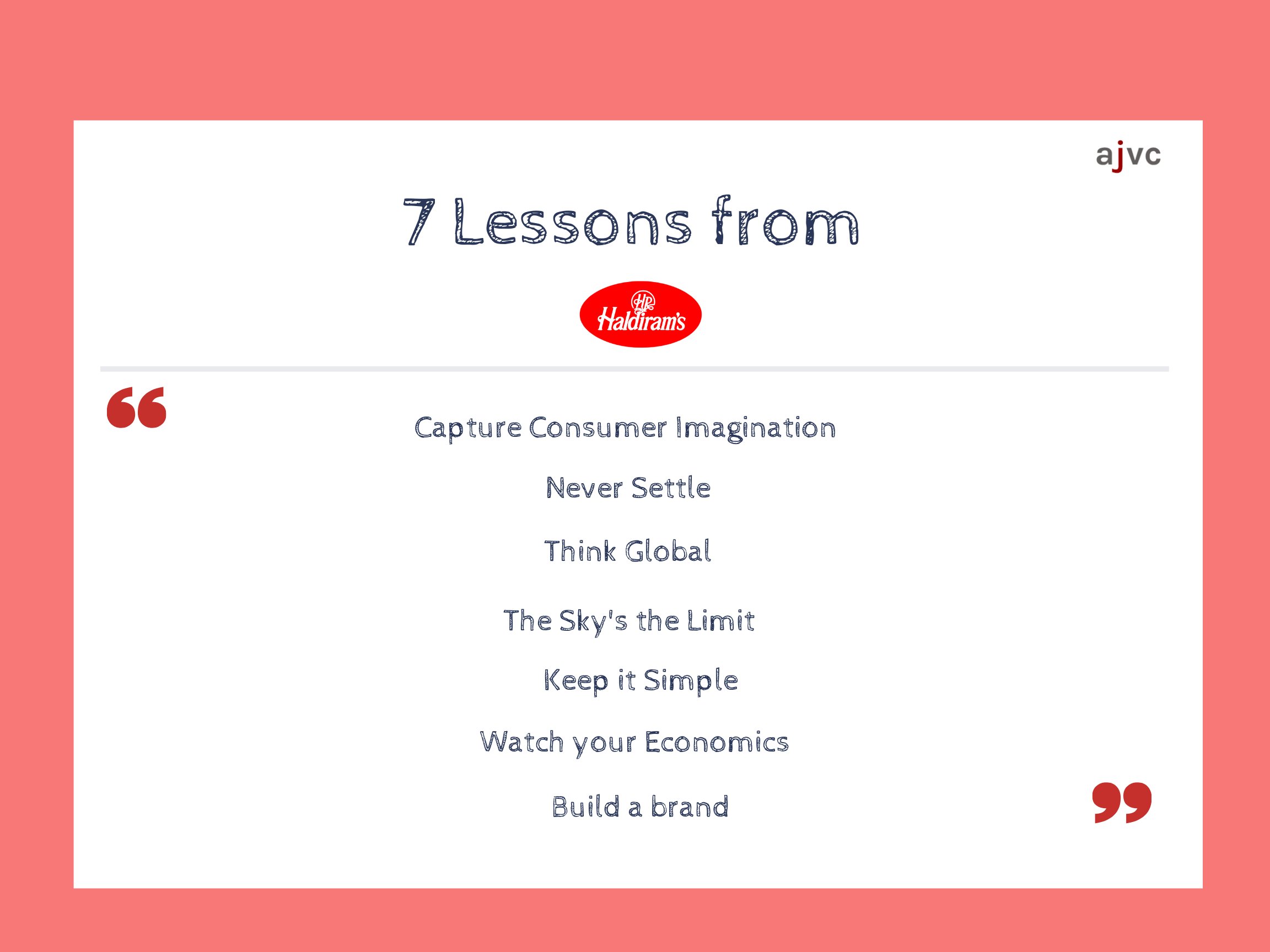 As Haldiram's has shown, it was ranked 55th among India's most trusted brands.
From a person selling bhujia in the bylanes of Rajasthan and 13 people sleeping in a small chawl in Bikaner, to clocking an annual revenues of INR 5,000 Cr in 2018, this is truly one of the most inspiring stories of a made in India brand loved globally.
If followed carefully, Haldiram's can inspire a generation of India's new age consumer startups.
Written by: Aviral, Keshav, Rohan, Shiraz